Have you ever heard of AI that talks like a human? That's what AI voice generators do! If you Googled What are the best text-to-speech tools, you will be able to find tools like OVO AI, Murf AI, and Synthesys, but are these really good?
How could these AI tools mimic the voice of human voices? I'm planning to answer all these questions, including What the best free options are and my take on what tools are worth using for your purpose.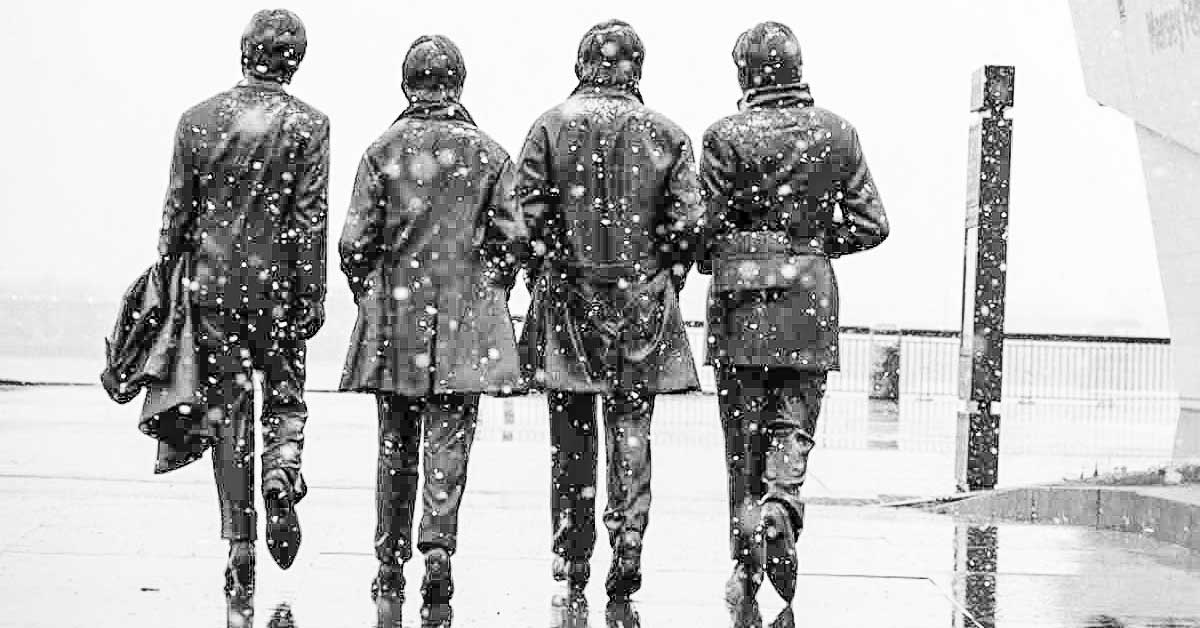 What is an Artificial Intelligence Voice Generator and How Does it Work?
Realistic text to speech applications and voice cloning are not the newest inventions ever, but with the current Artificial Intelligence and Generative  AI boom, these tools are getting way better than they used to be.
These AI text-to-speech and natural-sounding voice cloning tools aren't just text readers; they bring scripts to life, rendering emotional variations and supporting various languages. These tools especially identify punctuation marks and change the tonality of the voice accordingly.
These tools now produce almost professional-grade voiceovers that can be used to fit various industries and applications.
They allow extensive customization, enabling users to tinker with voices to suit specific needs. Script editing is no longer confined to text; it now extends to AI training for various voice modulations.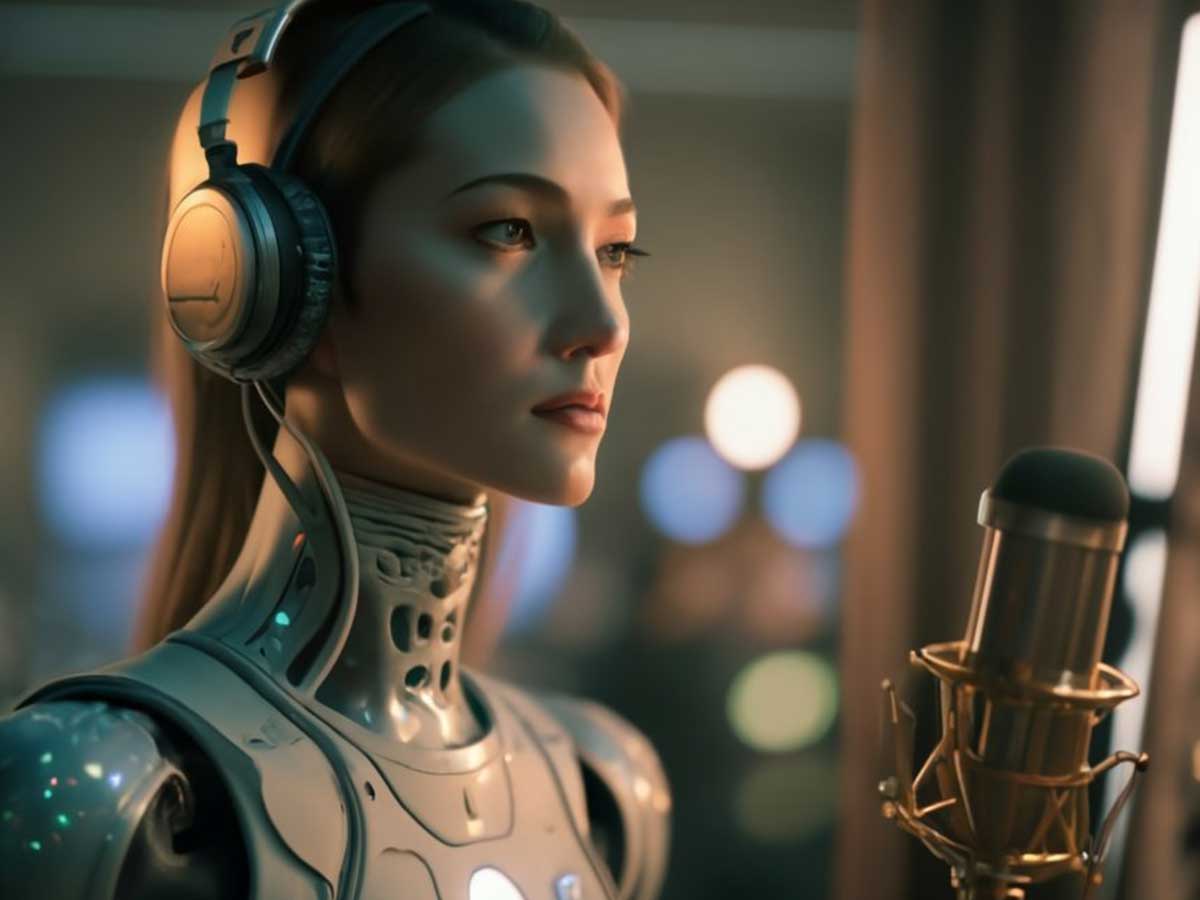 With pronunciation adjustment and pacing control tools, these generators allow fine-tuning voices for various applications. Some of these tools almost sound like human voiceovers done by a voice actor; you might not be thinking it's an AI generated voice. There's a reason for that. Most of these platforms use a voice actor to train these AI platforms to generate better voiceovers.
The Technical Details behind these voice generators are fascinating. These tools and algorithms are powered by deep learning.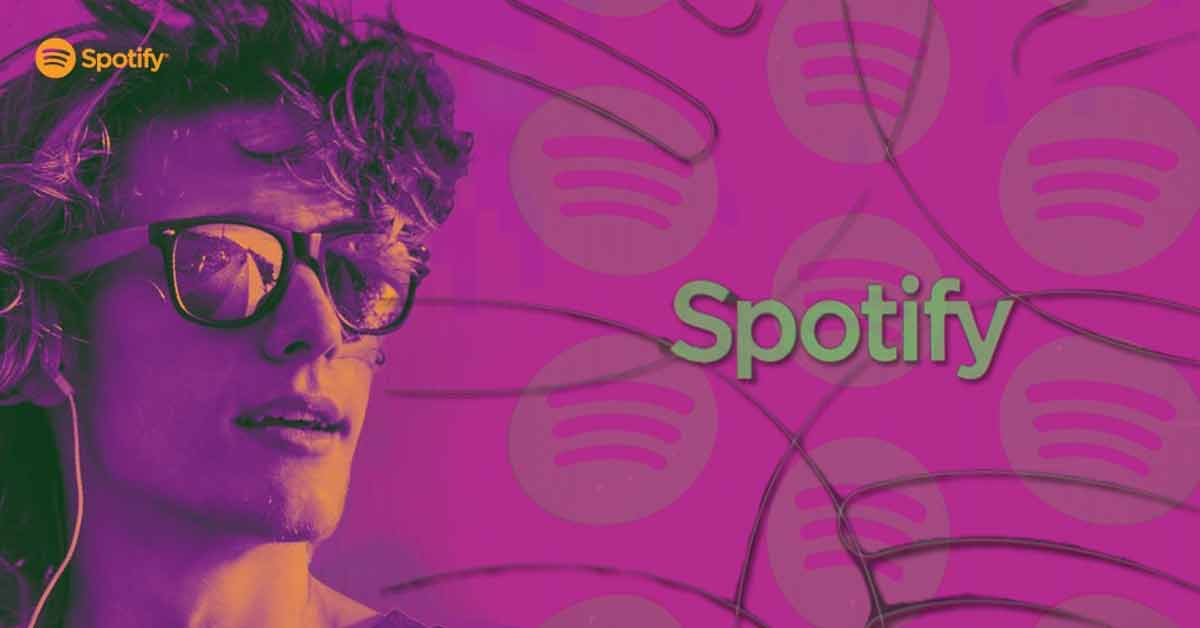 These systems rely on multiple language models and colossal datasets for training, ensuring that the audio produced is as close to natural human speech as possible. That's the ultimate goal, right? AI thinks and sounds like a human.
Use Cases, Positioning, and Industry Applications of AI Voice Generators
These AI voice generators aren't a one-size-fits-all deal but are tailored for various sectors. Specialized tools are used in specific industries, like gaming, banking, education, business applications, and advertising.
When you are looking for the best AI voice generators, don't select just any free one or the cheapest one. And it's not just about the price either; it's about what you get for it.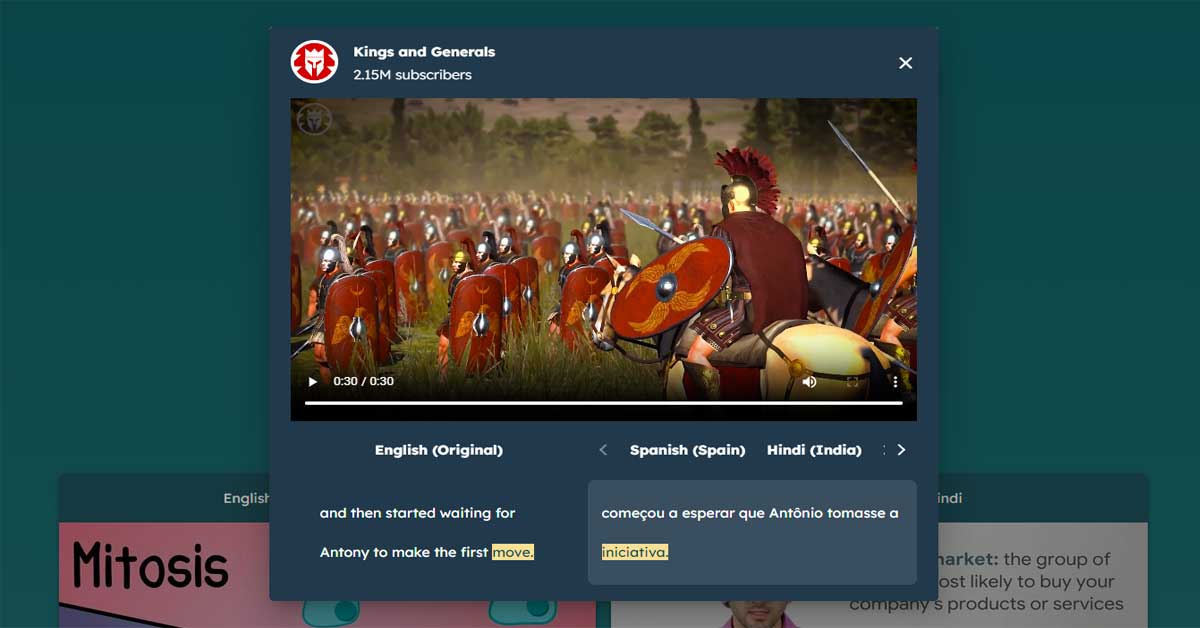 There are ways that these AI voices are used in language translation as well. Just like Spotify's New AI Voice Translation Tool Powered By OpenAI's Whisper, YouTube's AI-Powered Dubbing Service, etc. End of the day, all of these human-like AI voices are needed to enhance user experience and engagement because that's what matters.
How to Choose the Best AI Voice Generator for Your Needs
When selecting an AI voice generator, you have to consider a few factors, such as voice quality, language support, customization options, integration capabilities, etc.
Imagine an AI voice generator with realistic characteristics that can convert text to character voices with personalities and an accent. Personally, I would love to use that service, especially for audiobooks.
Additionally, considering the ethical and legal implications of voice cloning or using these AI voices is important in the selection process. If you are using a free version of these Artificial intelligence tools, most of those tools are not for commercial purposes, and strictly prohibit using those tools for such purposes.
Best AI Voice Generators for 2023
I hope this section of the article and my Comparison and Recommendations help you find the right AI voice generator.
First, we have to compare the top-notch voice generators and Specific Platform Features.
ElevenLabs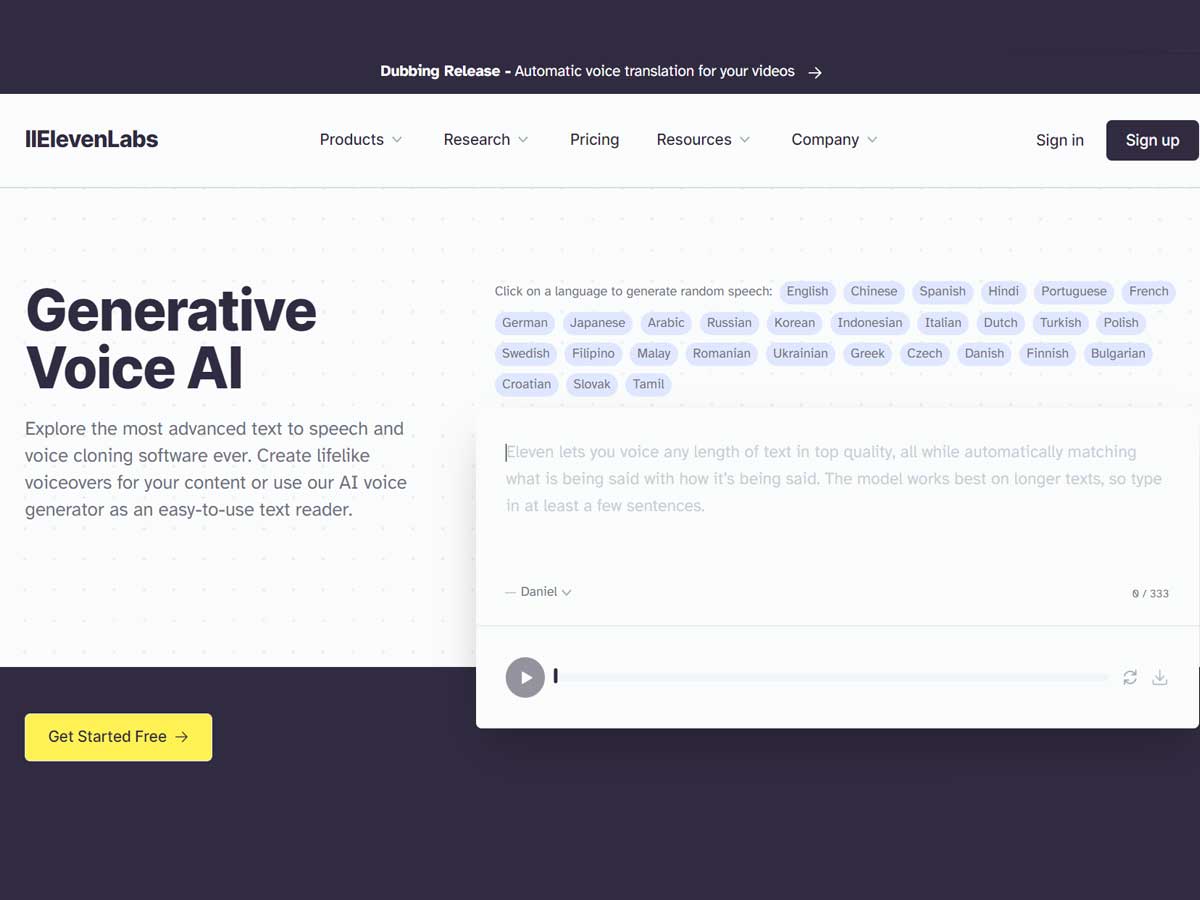 ElevenLabs has one of the best, and most use AI speech synthesis and text to speech technologies. They have cool features like VoiceLab, If you want to clone your voice, this feature lets you clone voices from voice overs or recordings—your own or even a celebrity's, as long as you've got a minute-long sample. Then there's Voice Design, where you create a new voice by tweaking gender, age, and accent.
The craziest part? Even if someone uses the exact same settings, the AI whips up a unique result each time. Once you've got your custom or cloned voices, you can use them for text to speech.
Need to tweak your cloned voice a bit more? Use the same parameters available in voice modification. And here's the kicker: it's free, but with limits—3 custom voices and 10,000 characters per month, sans the commercial license.
Want more? Check out the ElevenLabs premium plans starting at just $5 a month for 30,000 characters and a commercial license.
Murf AI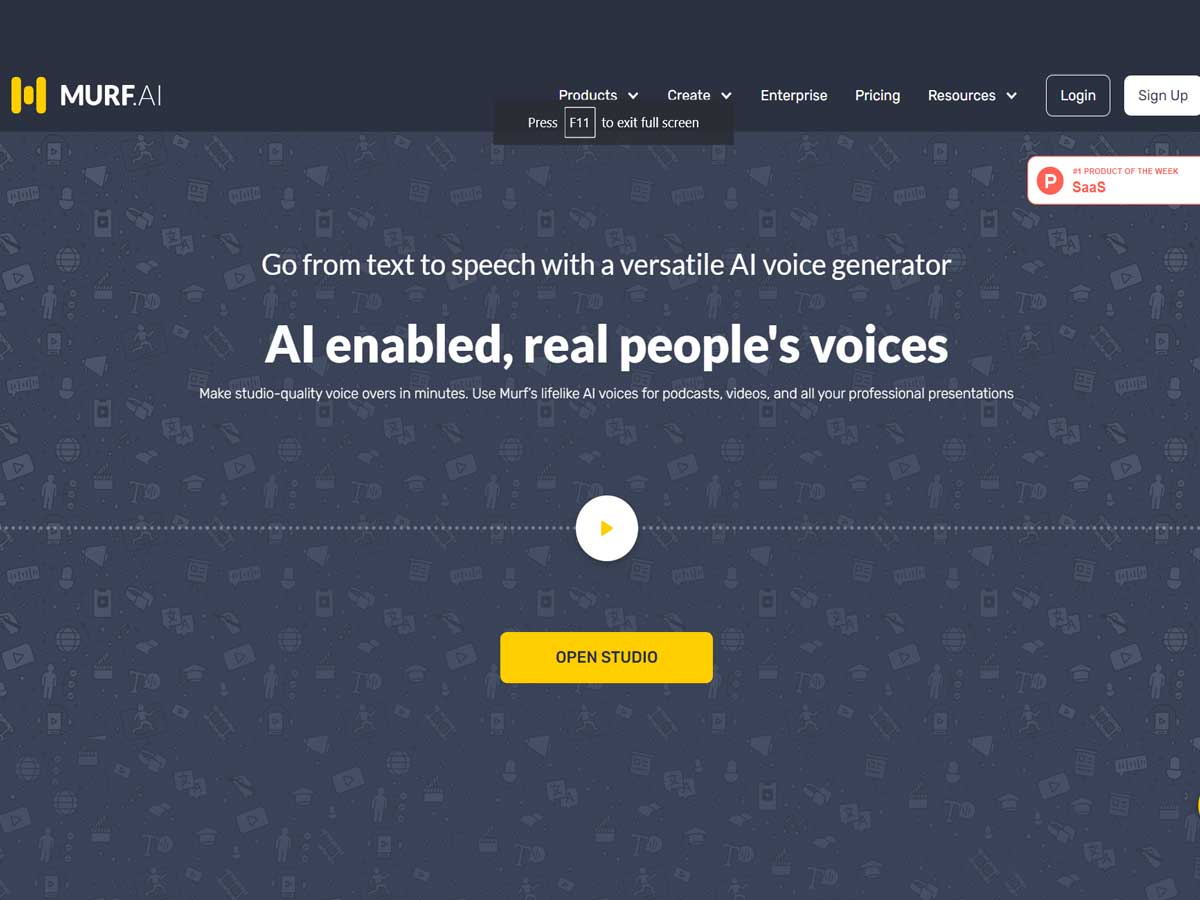 Murf AI has over 120 preset AI voices in 20 languages for text to speech; if you want to tweak your voice, the voice changer lets you upload your audio or freestyle record on the spot to edit and tweak. They have a pretty good voice cloning feature as well.
Murf AI lets you collaborate with your team, and You can jazz up your videos, music, and more. You can test Murf AI with 10 free minutes, then get a premium plan that suits you, ranging from $19 to $99 a month.
Resemble AI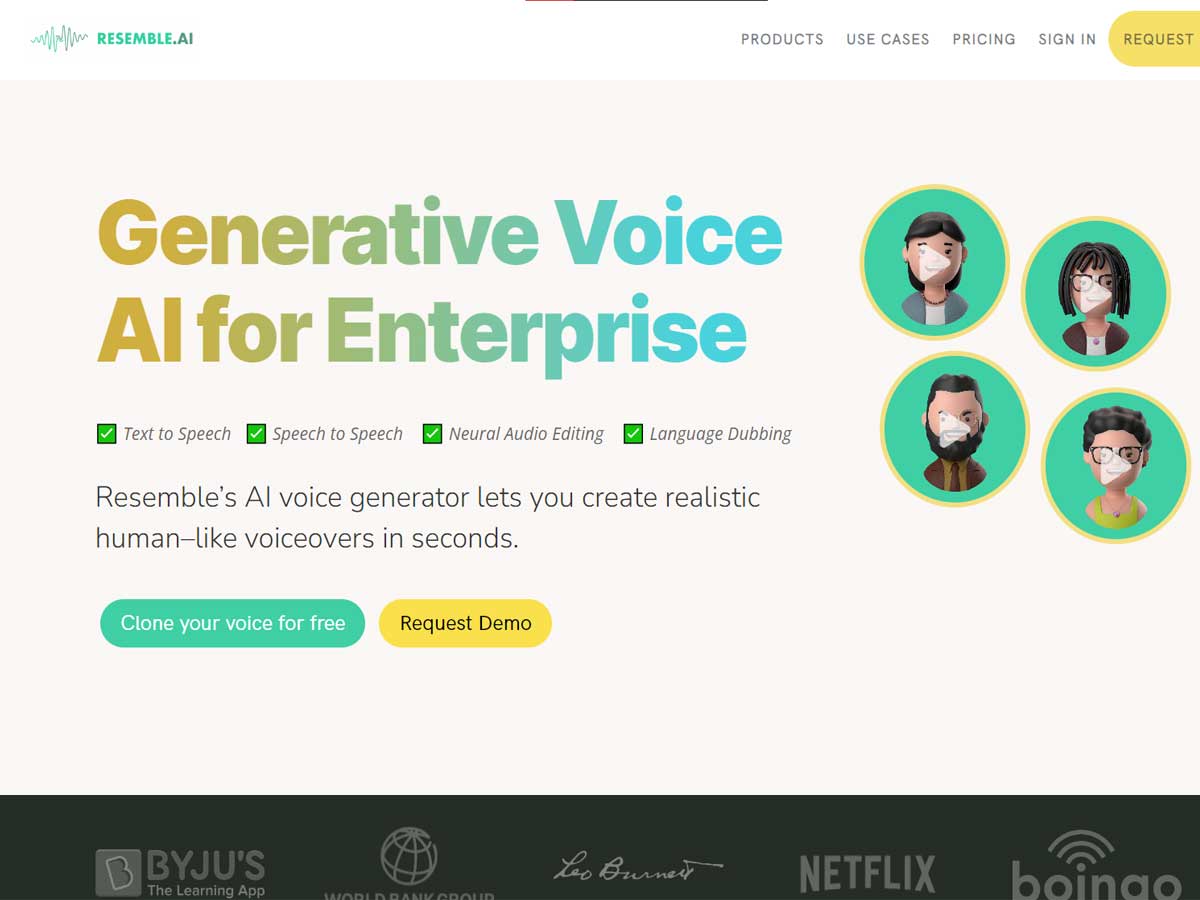 Resemble AI lets you localize your voice into 60 languages without knowing the words yourself. text to speech is pretty good. There's a crazy number of voice variations—over 200,000—so you can craft a voice that's totally unique.
They have interesting features like speech-to-speech. You can clone a voice from long recordings or go for a quick setup with short recordings, though a few more samples might be needed for accuracy.
Their 'neural audio editor,' now called Resemble Fill, is an awesome tool for tweaking audio. Resemble AI Pricing starts at $0.006 per second for the basic plan, with more options available through their pro pricing.
Speechify
Speechify is a super platform for Android and iOS AI voice and a Chrome extension. Speechify offers over 200 voice modules. The editing suite allows you to mix videos, music, and effects to produce professional-level content.
It also supports dubbing videos into other languages. While the Speechify free tools limit voiceovers to 10 minutes, the premium plans start at $11.58 a month for Speechify and $59 a month for the voiceover service.
Synthesys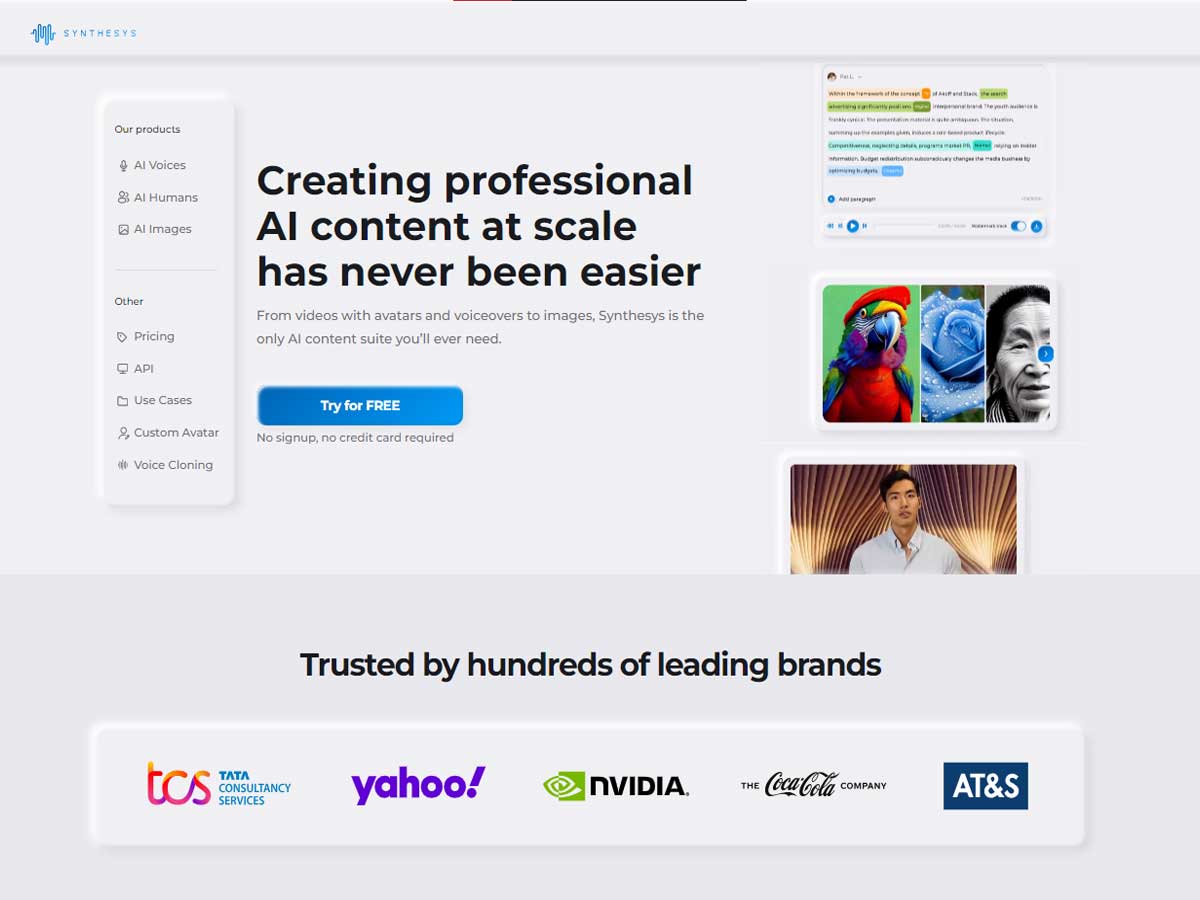 Synthesys. It's more than just your average voice generator. It has some unique features like avatar creation,  Synthesys Text-to-Speech (TTS), and Synthesys Text-to-Video (TTV) technology to transform your script into vibrant and dynamic media presentations.
They have more than 300 voices in 140+ languages. They cover the range with text-to-speech variety. From different tones to languages and speech styles, Synthesys premium service starts at $23 per month.
If you are looking for the Best Free AI Voice generators and AI Voice changes, you have a few good options as well. Like ElevenLabs, Respeecher, Animaker. These platforms have premium plans as well, but if you are looking for something for free, you can't go wrong with these options.
AI voice generators can be helpful to many files. You need a text-to-speech option or even a voiceover. These generators can almost mimic lifelike AI voices, and even voice clones change the field of voiceovers.
The applications are boundless, from delivering professional voice generation to crafting astounding audiobooks and giving life to accent-rich stories. These tools offer unparalleled options for any content creator to weave their magic.
These platforms' human-like and natural-sounding capabilities are not just AI-generated; they're tailored for the consumer. So whether you're exploring custom voice creation or need an AI-generated voice for a specific use case, there's something for everyone in the grand tapestry of these tools.
These AI voice generators span the gamut of possibilities. They aren't just about translating text into speech; they translate visions into realities. From those little tweaks in audio files to creating the most engaging voice for your project, these tools epitomize innovation and creativity. Remember one thing: these tools have the capacity to go beyond being just a text reader.